Automotive Service Technician
My name is Mr. Ishmund Cattlidge, and I attended Mississippi Delta Community College where I earned an A.S. Degree in Applied Science in Automotive Service Technology.

As a beginning teacher, I plan on making a difference early. My philosophy of education is, "If a child cannot learn in the way we teach, we must teach in a way the child can learn." - Dr. Ivan Lovaas. I started my career off during college in July of 2012 at Oreilly's Auto Parts where I'm currently still employed. I also began working at Firestone Complete Auto Care, in Cleveland, MS in June of 2013, where I was employed for two years. I was then given the opportunity to teach (my dream)!!!!

Automotive Service Technology encompasses careers in the inspection, repair and maintenance of a vehicle's mechanical and electronic systems, including those found on cars, trucks, motorcycles, aircraft, marine and industrial vehicles. Employees in this field may also choose to specialize in a specific automotive area or equipment, such as tires, alternative fuel vehicles, diesel vehicles, emissions systems and specialty fabrications. They may also choose to become business owners/managers, service managers for large car dealerships, or automotive engineers.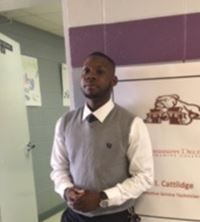 Mr. Ishmund Cattlidge
Instructor